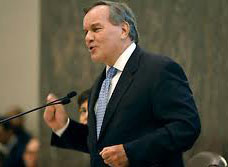 SAN JOSE, Feb. 10 – Former Chicago Mayor Richard Daley outlined a path for Silicon Valley as a green economy today at the 2012 Silicon Valley Conference.
Discussing his role in re-shaping Chicago as a "green" city, the mayor said, "Now isn't the time to wait." His overall message to Valley movers and shakers: Think globally, act globally.
Daley  offered the audience six pointers:
We must focus on building effective regions.
We must fix our political climate.
Successful regions must perform creative partnerships with the sectors that will promote future prosperity.
We must make the environment a priority to the future of our economy.
Government should lead by example and stop mandating others.
Thing big and think differently.
All levels of government, private businesses and citizens  have an equal share of burden in reaching these goals. Without cooperation, nothing can happen, Daley said.
Daley  referred to "what is called in other regions as 'the Silicon Valley effect'— where the  sum is greater than the whole of its parts." Daley said that one of the Silicon Valley's strongest  features was  its ability to  surround talent with talent,  to "increase innovation, creativity and productivity."
The Silicon Valley effect needs to be put into our political system,  Daley said. "Our leaders have become political servants and not public servants," Daley said, adding that too many "partisan warriors" populate government office.  Without the willingness to compromise, there can be no progress, he said.
With  its ability to compromise and negotiate,  Silicon Valley can serve as a model to improve governance, Daley said.
Referring to his efforts in Chicago to build Millennium Park, which the New York Times has described as "America's most dazzling urban park, he said:  "We sat down with private firms, nonprofits, citizens, and we asked for help from the city. That was important, just asking, but asking with a plan," Daley said.
Daley  said city governments  should operate in a more streamlined, more effective way. Government should  turn over smaller responsibilities to competent, private firms, leaving time for larger issues, he said.
These larger issues, for Daley,  include a focus on environmental preservation and policy. Daley said he hoped that Silicon Valley could lead by example, much in the way, he said, Chicago has done.
"We planted 600,000 trees, developed over 1,500 acres of open space, and have offered faster permitting for contractors if their buildings meet LEED certification," he said.
LEED Certification is granted by the United States Green Building Council to determine the sustainability of a building's design.
Silicon Valley is  poised to move forward, Daley added, encouraging the region to think more boldly. "
"You've been taught to think globally and act locally, " he said. "I'm here to tell you that's wrong. What you are doing locally has global implications. Think globally. Act globally."