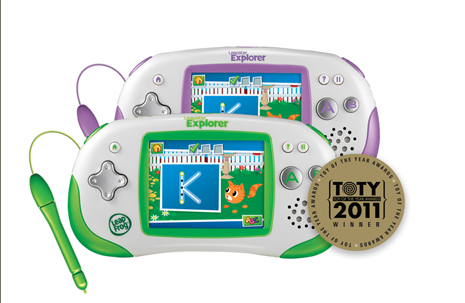 When Emeryville-based LeapFrog Enterprises (NYSE: LF) released the LeapPad Explorer last year, few expected the children's tablet to take off like it did. Named the "Toy of the Year" and "Lifestyle Toy of the Year" by the Toy Retailer Association at the British Toy and Hobby Association's annual awards ceremony, the LeapPad has consistently outsold predictions and buoyed the company's holiday sales in 2011.
As a result, the company pulled in higher revenue and more profits than expected for both the fourth quarter and the year, exceeding analysts' expectations. This was due, in part, by strong LeapPad sales and share gains internationally.
"The sales growth in the international segment was driven by the LeapPad, a broader offering of our product line, and continued share gain in virtually all of our markets," said Chief Financial Officer Mark Etnyre during the company's year-end earnings call, adding that he is proud of the progress the company has made this year.
LeapFrog designs, develops and markets technology-based learning platforms in Emeryville, Calif., along with related content through its App Center. Inventory for the year is dramatically better than last year, when leftover product from 2010 plagued the company. In 2011, demand for the LeapPad outstripped procurement and manufacturing, and demand is expected to outpace supply into the second quarter of 2012.
The company reported a gross profit of $93.6 million, or $.49 per share, for the fourth quarter, compared with $85.8 million, or $.38 per share for the same period a year ago. Analysts had estimated a gain of $.42 per share.
LeapFrog typically has seasonal sales, with a strong fourth quarter. Fourth quarter revenues of  $210 million for 2011 accounted for 46 percent of all sales, while the $189.8 million fourth quarter 2010 revenues accounted for 44 percent of all sales.
For the year, Leapfrog reported profits of $186.15 million for the year, amounting to $.30 per share, compared to profits of $178.97 million, or $.08 per share, the previous year. Analysts had expected a gain of $.23 per share.
In 2011, LeapFrog had net sales of $455.14 million, and $210.21 million for the fourth quarter. In 2010, the company had net sales of $432.56 million, and $189.79 million for the fourth quarter. Results were short of analysts' expectations of $447.24 million in annual sales, and $202.32 million for the quarter.
The company had spent much of 2011 developing partnerships with digital content providers for its App Center, and expanding international markets, where sales have continued to grow. For 2011, income from operations was $23.7 million, three times higher than a year ago.
"I expected U.S. sales to be stronger than they were. They were only at five and a half percent and we had it modeled at 7 percent," said Gerrick Johnson, a toy industry analyst with BMO Capital Markets. "But international was up 32 percent compared to our expectations of 12 percent, so that growth is good."
LeapFrog Chief Executive Officer John Barbour said in a statement that the company delivered strong earnings and cash flow growth in 2011 due to the strong performance of new platforms and content, international growth, and improved operational management.
With several new digital content provider partnerships, including with toy giant Hasbro, in recent months, Barbour said he expects the company's profitability will continue.
"We expected continued strong earnings growth in 2012 to be driven by net sales growth in both our U.S. and international segments and prudent operating expense management," he said in a statement.
Cash and cash equivalents were $71.86 million in 2011, up significantly from $19.5 million in 2010. The company draws revenue from sales of its tablets and other devices, as well as from its App Center.
Looking ahead, the company said it expects net sales to increase by six to eight percent for 2012 over 2011. Net income per share is projected to be in the range of $.40 to $.45. For the first quarter of 2012, LeapFrog expects net sales to increase by 20 to 30 percent compared to first quarter 2011 results. The company is expecting a net loss for the first quarter of 2012 in the range of $.26 to $.30, compared to a net loss per share of $.34 in the first quarter of 2011.
Barbour said during the earnings call that the company plans to focus on aggregating and curating content in the future, as well as on developing multimedia-learning platforms.
"We believe our business will grow nicely in the first half," he said. "But in the second half we may have some winds at our face to deal with."
Barbour mentioned competition in the children's tablet market and the looming end of the lifecycle of some LeapFrog products as potential obstacles.
Despite the generally positive report, share price fell in after hours trading following the earnings call. Trading on the Nasdaq Stock Market closed at $6.83, up $.24, or 3.64 percent. In after hours trading, shares fell to $6.20, down $.63, or 9.22 percent.