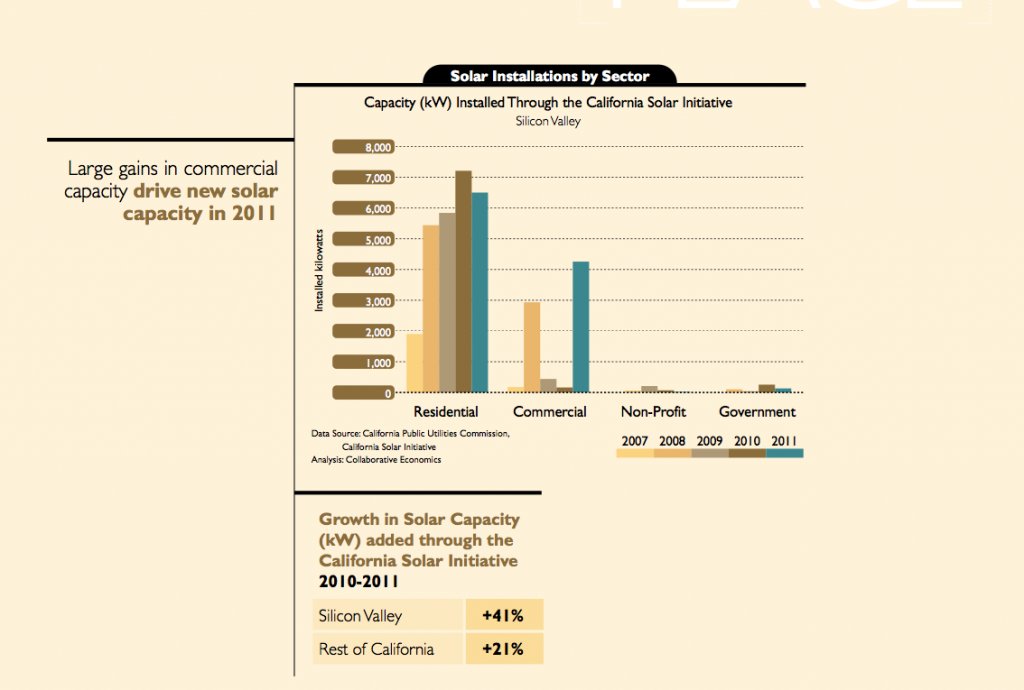 SAN JOSE – Feb. 10. Citizens, cities and communities need to work harder to "go green," according to a panel of experts who spoke at today's 2012 Silicon Valley Conference.
According to the Joint Venture Silicon Valley Index report, released Tuesday, "Venture capital investment in clean technology nearly doubled over the prior year and was strongest in Energy Generation, Efficiency and Storage. The region represents 34 percent of total California investment in clean tech."
Still, panelists agreed that more needs to be done. Whether it's making it easier to get solar permits for improving energy efficiency at home, or bolstering personal recycling habits, more individual and regional changes are necessary to allow Silicon Valley to reach energy and efficiency targets.
San Jose Mayor Chuck Reed maintained that the Silicon Valley has more opportunity to think about clean technology than other cities because of the innovation that consistently takes place here.  "Technology is the easy part," he said. "The tech companies here are going to make it, refine it, make it cheaper, faster, that's just going to happen."
But James L. Sweeney, Director of the Precourt Institute for Energy, said change won't happen without specific steps. Cities and communities, he said, are "not doing enough."
Behavior and regulations need to change, he said. When it comes to green design, for example: "Clear attention on human behavior is absolutely essential to move forward."
"Building permits for solar energy take too long; it discourages many," he said. "The installation prices are only half." The other half: "bureaucracy."
Because renters don't feel the same sense of urgency as building owners and because interest in energy efficiency is an abstraction to many, Sweeney called for a renewed push to bring clean technologies into the home.
"It's difficult to convince somebody to implement new behavior unless you show them a number," Sweeney said. Show them how much they save from new appliances. Then you'll see change," he said.
The Joint Venture report noted some good news. Electricity and water consumption in the Valley have fallen 7 and 9 percent respectively over the year, compared to 2 percent for the state.
Solar capacity—the amount of solar equipment installed, measured in kilowatts—increased by 41 percent in Silicon Valley. The residential sector accounted for 60 percent of this increase. This means private homeowners are putting both money and interest into solar technology.
With the focus on green thinking, one member of today's audience wondered if the city could produce new jobs in the clean technology sector.
Reed stated that the city wasn't going to make those jobs, but look to the private sector to do so. "We're looking to start-ups to make those jobs and for city governments to recognize their importance," he explained.
Sweeney agreed, saying that if the only drive to clean technologies is job creation, it's likely the industry wouldn't succeed.  "A green tech business doesn't automatically make a successful business," he said. "We need a better reason to use clean tech than the potential for job growth."
Still, Sweeney argued that it's up to local municipalities to push environmental preservation legislation. "The federal government isn't going to start it, I've learned to stop wishing for that," Sweeney said.
He noted that the California Clean Water Act, which is being emulated across the nation, wasn't a federal mandate but a smaller idea that "bubbled up" to a national level.