Hear more about this story and how it developed on the Peninsula Report podcast.
View video >>
It started with in-house gourmet cafeterias. Then came the personal trainers, laundry services and napping pods. And now, some Silicon Valley and San Francisco companies are offering a new fringe benefit to attract top employees: mobile hair salons.
Coiffeurs on wheels — offering delicate cuts inside bulky vehicles retrofitted with electrical outlets, hot water and immobile furniture — pull up outside Yahoo, LinkedIn, Facebook and other, mostly high-tech, companies. Unlike food trucks, the salons stay in one location for an entire day. When you have scissors onboard, it's safest to be parked.
Onsite Haircuts, a Silicon Valley start-up in its own right, operates five of these mobile salons in California. Sophisticated contracts and non-disclosure agreements are signed before the stylists pull out their clippers, in case the client is working on The Next Big Thing.
Where possible, the vans plug into clients' buildings for electricity. If a stylist wants to enter one of the companies to use the restroom, however, she may need to get prior written approval. To secure a prime parking spot, a driver often moves the van in the middle of the night.
Founded in 2003, Onsite now is owned by Silicon Valley software engineer Chris Harris and his wife, Emily, who have tried to keep up with the high-tech expectations of their clients. "Our whole management system, including point-of-sale and appointment reservations, is online," Chris Harris said.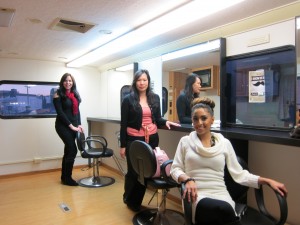 Harris first heard about the business when the haircuts were offered as a benefit at his own office. Under his leadership, the vans have been equipped with WiFi and iPads for accounting. Credit cards are accepted as payment and swiped using the Square application.
"There are a lot of companies here, high-tech, low-tech, and start-ups, competing for the best and brightest in the Valley," Emily Harris said.
Many use non-traditional benefit packages to get an edge over their competition. At Evernote, a software company headquartered in Redwood City, all full-time employees, from the CEO to the receptionists, receive free home cleaning. Employees at Zynga, the San Francisco-based social games business, can access on-site arcade games, reflexology and acupuncture.
In addition to mobile salon services, employees at TiVo enjoy on-site dry cleaning, car washes and virtual waiters. "The convenience factor is probably the most attractive aspect of the service," said Seana Norvell, TiVo's public relations and social media manager.
Emily Harris said her clients, Silicon Valley engineering types, work long hours and often don't want to waste their limited free time on chores like haircuts. Many of them ride-share or take the bus to work, so they don't have cars available during breaks. Those who do drive often guard their parking spots closely.
"They can show up, get their hair cut and go back to work, and it's taken them 20-30 minutes," she said. "Our slogan is 'get in, get out, get on with life.'" While some clients pay out of pocket, many enjoy the service on their employer's dime. Currently, 24 salon trucks in California have been licensed by the Department of Consumer Affairs.
When an Onsite Haircuts van is scheduled to visit a company, employees are notified and encouraged to register for an appointment online, where they select a time, type of cut, and stylist.
Stylist Serena Wong, who works in one of the mobile salons, said her engineer-heavy clientele is particularly fond of men's "fade" haircuts, which use electric clippers. Since moisture can interfere with proper clipper functioning, many skip the shampoo.
Wong added that despite this, "everybody is different," and that she also regularly gets requests for styles like faux-hawks and mohawks. For female clients, A-line cuts, or reverse bobs, have been in demand recently.
While walk-ins are accepted, the primary clients are from companies that register for the service. "People think we're gypsies that show up in the middle of the night, like a roaming troupe," Emily Harris said. "But we have consistent schedules, consistent stylists, consistent days." (Story continues below.)
[cincopa AEOA0BLmz2XT]
Given the nature of their clients' work, Onsite employees understand that loose lips and prying eyes are unwelcome, Harris said. "Generally speaking, we don't know what the secrets are, and we don't want to know what the secrets are," she said. "The stylists' position is: If you're working on something, that's great, but don't tell us about it." It's not uncommon for clients to board the vehicles, for instance, with mobile technology not yet available to the public.
The company faces additional challenges associated with operating in moving vehicles. "At the end of the day, we're in an RV," Harris said. Mobile salon chairs must be extremely heavy so they stay in place when the vans move. Smaller items must be locked down or put away at the end of each day. "Every morning, we set up the stations from scratch," she said.
Keeping items stationary and secure can often pose a challenge. "We keep replacing the clock because it keeps falling off the wall," Harris said.
When the vans cannot be plugged in, they run on generators, which heat the water used for shampoos and run the lights. Custom-designed electrical units in each vehicle ensure that if one of the hair stations blows a fuse, the three or four others can continue to operate.
Some of the vehicles extend in size at the push of a button, increasing the interior space. A tiny waiting room can emerge in a few seconds. The front of the van typically contains a microwave and a washroom.
In addition to these challenges, Onsite, which was created by hairstylist Dena Kaufer in 2003, must meet all the regulatory requirements of a salon set out by the California Board of Barbering and Cosmetology.
The hair cutting industry is "pretty strictly regulated in terms of health and safety," said Russ Heimerich, spokesperson for the California Department of Consumer Affairs. "Most of the regulations are aimed at ensuring the licensees are competent and the establishments are sanitary, since sharp instruments can introduce blood-born pathogens." A special category for mobile salon licenses was created in the early 2000s.
Insurance has posed a major challenge, Emily Harris said. "When you talk to insurance companies about mobile hair salons, they don't really know what that means. They haven't seen it," she said. She and her husband had to work directly with underwriters to get customized auto, business and liability insurance after speaking with roughly 40 insurance companies.
Harris said she even tried explaining that they were like mobile pet grooming salons, but for people.
Onsite has the market share in the Bay Area. Now serving approximately 16 companies a week, it recently expanded to San Diego. In Southern California, other mobile salon companies such as Yumi K.'s Mobile Hair Salon and Hair I Am on Wheels offer similar services, though they appear less tied to the tech industry.
The Harrises hope to set up trucks in Seattle and Austin, Texas, next year. They have also been in talks with sister companies and East Coast offices to see where they might move next.

[youtube]dYLrlqsq6sU[/youtube]

[soundcloud url="http://api.soundcloud.com/tracks/73781254″ params="" width=" 100%" height="166″ iframe="true" /]