Hear more about this story and how it developed on the Peninsula Report podcast >>
Today — Valentine's Day — romantics across the country are uttering the same timeless words: Will you be my restaurant?
With the Silicon Valley employment rate back up to pre-recession levels, local restaurants are bracing themselves for a rather profitable Valentine's Day — and week.
In a recent survey, sent to OpenTable customers across the country, more than half of respondents said they planned to dine out on Valentine's Day itself, with an additional 36 percent planning to dine out on the following weekend, and eight percent planning to dine out multiple times over the course of the week.
Respondents also predicted that they would spend an average of $139 on their dinner for two, roughly 64 percent more than the average OpenTable check of $85.
"What we've seen consistently is that Valentine's Day, which includes the surrounding weekend, is really the biggest dining out holiday," said Tiffany Fox, senior director of corporate communications at OpenTable. The second-most profitable restaurant holiday, she said, is Mother's Day, with New Year's Eve coming in third.
Valentine's Day reservations may be more elusive this year because the holiday lands on a Thursday, which is generally a popular day for restaurant reservations. According to a 2011 OpenTable study, Thursday is the most popular weekday for dining out.
Many restaurants have already booked their openings for a romantic dinner for two — as early as 4:30 p.m. On Valentine's Day, Fox says, "people will gladly take what they can get."
Throughout Valentines' Day week, the "shoulder-periods," like 4:30 p.m. and 10:30 p.m., tend to fill up at much faster rates than usual, industry experts said.
Given the financial health of the Valley this year, it's possible that local spending on Valentine's Day dining may be even higher. The area has significantly more young working residents than the average American region, according to the 2013 Joint Venture Silicon Valley Index released Feb. 8  by Joint Venture Silicon Valley and the Silicon Valley Community Foundation.
In 2012, the study found the largest portion of the Peninsula population was also between 24 and 44 years old. Prime Valentine's Day celebraters.
In the Valley, there may be still more good news for restaurateurs this week: real per capita income was also up 2.2 percent this year. In theory, this means that not only can more people afford to dine out for Valentine's Day, they might also spend more on their meals, with add ons like wine and desserts.
At the state level, 14 of the nation's "100 most romantic restaurants" were in California. The list was generated from OpenTable dining reviews. All were fully booked for the Valentine's Day. Of the top 100 most romantic restaurants, 30 served "American food."
"Any place serving fondue is always a tough ticket," Fox said.
San Francisco's "Ten Most Romantic Restaurants," generated by user reviews, were also booked solid for Feb. 14.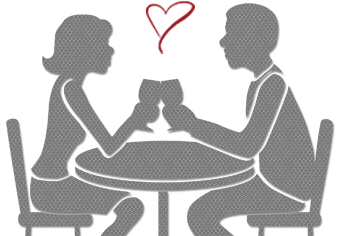 According to OpenTable, three California cities also ranked in the nation's "Top 25 most romantic cities," with La Jolla, San Diego, and Santa Monica ranking fourth, 16th and 24th respectively. The figure was based on factors like the percentage of diners seated at tables for two, user-generated romance ratings, and the percentage of people who ate at restaurants on Valentine's Day in 2012.
The National Restaurant Association, a trade association representing the food service industry, forecast that for the third consecutive year, sales in full-service restaurants would go up. In California, the trade association forecasted 2012 sales of $63.8 billion.
Despite these increases, the Restaurant Association said the bottom line for many restaurants may still be hurt in 2013 due to increased costs associated with food and healthcare and the overall U.S. economy.
Looking at the American restaurant industry as a whole, Fox said, "There has been some recovery, and stabilization," in recent years,  but "the last year has been really kind of flat year-over-year growth in the industry overall."

[soundcloud url="http://api.soundcloud.com/tracks/81588387″ params="" width=" 100%" height="166″ iframe="true" /]