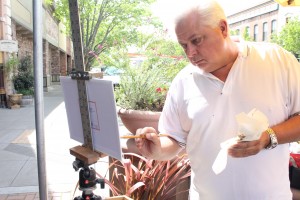 At first light, artists fill every street corner of Winters, Calif., a farm town nestled in the base of the Vaca Mountains near Sacramento. Some have come to paint; others are using their creative talents to send a message about the over-development of agricultural communities.
Winters is in the midst of its open-air art festival organized by local gallery owner, Shaunie Briggs. The annual celebration of art and agriculture is held each April and is currently in its fourth year.
For many of the town's some 7,000 inhabitants, the festival is a way to highlight small-town community values and invite newcomers to experience what they call "a simple place in a complex world."
But, the festival has been viewed by local business-owners as a means to attract tourists to Winters. Many have rallied in support of the festival by featuring the paintings on their empty walls or housing the artists free of charge.
Artists stay in private homes or spend the week in a caravan, because, other than a few rooms in Victorian bed-and-breakfasts, there is nowhere else to stay. The town has only made baby steps toward becoming an overnight destination like Napa, or luring commuters in from the freeway. While restaurants and wineries are fast becoming popular with visitors, the nearest hotel is 10 miles away in Vacaville.
Many familiar faces crop up on the state's art festival circuit, but unlike other open air events in nearby Carmel and Sonoma, Briggs opened up the experience to non-professionals. There is no formal judging for artists; the only requirements are to register and be ready to paint outdoors.
This year, about 36 artists flocked to Winters to paint pastoral scenes of rural life to capture a one-time bedroom community on the rise.
"Shaunie has established this art festival that says let's celebrate the beauty of the world around us," said Sacramento-based artist and gallery-owner, Patris Miller, who simply goes by Patris.
Patris is an artist by trade, who has strong political feelings about development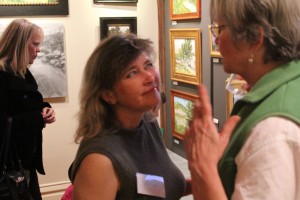 because she sits on the board of an inner-city association in Sacramento. She hopes her paintings might start a dialogue about the problems facing California's agricultural towns. Similar to many Winters residents, Patris harbors mixed feelings about the growth of a town that prides itself on its authenticity.
After a day of painting, the artists return to Briggs' studio to fill a glass of locally sourced wine and continue the discussion about how the town has changed since their last annual visit.
A strong point of contention is the formerly empty field across the street where the city recently built low-income housing.
"There are other ways to grow that preserve the integral heritage of the community," Patris said.
"We are trying to record fading agricultural elements," artist Marti Walker piped up in agreement.
Thaleia Georgiades, a realtor who lives near Placerville, said her fellow artists were fighting a losing battle.  To attract tourism, she suggested the town must "market the idea of quaint," or start building up its range of services and amenities, including accepting Burger King's bid to set up a franchise – an event that sparked a wave of controversy in the town not long ago.
For many of the newcomers, Winters is a model to other small towns and has already achieved a great deal of degree of success in "marketing quaint."
Scott Martin, an artist from Sacramento, set up his easel next to an authentic outdoor pizza oven on the corner of Railroad and Main. He has not formally entered the festival and does not intend to sell any of his works. For Martin, a weekend in Winters offered an escape from urbanity.
"It is a very arty town, quaint and friendly," he said. He described being touched by a simple gesture of friendship. A passerby noticed he had finished his lunch, and offered a hand to dispose of his garbage so Martin could continue painting.
Debbie Gualco is veteran of open-air art festivals. Locking her eyes on a bearded local quietly re-stringing a guitar in a local café, her paint-stained fingers expertly prop up a canvas to capture an ordinary moment.
This is her third year participating in the Winters festival, which is one of her favorites because the residents are so welcoming, and business owners' view their presence as a positive thing. In other communities, she explained, "the property-owners really don't want you."
"We promote our businesses by promoting Winters," said John Pickerel, the owner of the two most prominent restaurants, the Buckhorn and Putah Creek Café. "The plein air festival shows our softer side," he said, proudly proclaiming that the town is no longer the "backwater of Yolo County."
Pickler's restaurants have spread all over the country, including New York and San Francisco. In typical Winters fashion, he is radically averse to self-promotion, wryly referring to his accomplishments as a "a 30-year overnight success." Pickerel is an early riser because his most loyal customers – the farmers – arrive at the crack of dawn for a cup of coffee.
Charley Wallace, publisher of the local weekly newspaper Winters Express, established 1884, has closely followed the redevelopment debate."This is a sore subject for me,"he said. In his opinion, there were a myriad of advantages to enhancing the downtown area, which did not encroach on the farmlands. "Some people are against anything. Truly anything. They just want Winters to stay just the way it is."
Pickerel is adamant that the town should take further steps to promote tourism, but should be careful not to become a victim of its own success.
"We are essentially trying to give city people a sense of slowing down," he said.
The festival was a slow starter this year due to a rare 10-day run of inclement weather. Intended as an outdoor painting event, or "artathon," Briggs said she feared for the worst when the skies darkened and rain began to fall.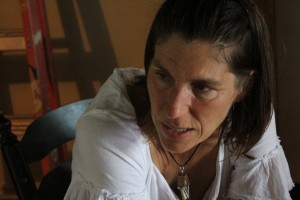 "I started doing the backwards rain dance," she half-joked. Briggs, who is Native American by descent, described how she threw up her arms and started to chant in a bid to channel the benevolence of the gods. "Next morning," she said, "it was bright and glorious."
To protect herself from the elements, Gualco said she hovered under the tailgate of her car. In five days, she worked furiously to complete two interiors and a scene of Winters' famous water tower.
The artists paint in clusters, vigorously filling canvases with bright light and swathes of color in the hopes of attracting a buyer. The paintings sell for between $150-$2,000.
Making a living is a primary motivation for many of the artists, but Gualco said she hoped to capture a disappearing landscape. "Artists are always trying to save beauty," she said.
Most locals are optimistic that they can resist corporate development and keep the town's identity intact. Nancy McCaffery, president of the Winters Chamber of Commerce, said her town remains one of the "best hidden secrets" in California.
Jill Coursin, a one-time resident who developed an exhibition to showcase Winters' history, nodded enthusiastically, adding: "Every time I come back here, I feel like I'm in another time zone."
As the weekend drew to a close, tourists were slow to return to their cars. The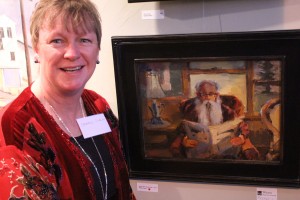 restaurants were still brimming with life, and the wineries were at full capacity. At her pop-up gallery downtown, Briggs continues to greet potential customers from nearby Davis and Sacramento. In preparation for a steady boost in art sales, she fills the window with depictions of mountains, lakes and the quiet streets that wind through the vines.
[youtube]xs9YeCKBb_I[/youtube]